Sky to revamp EPG on newer boxes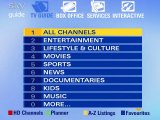 Sky is planning to offer a radically enhanced electronic programme guide to new versions of its Sky+ digital video recorder. Sky confirmed toay that it is currently consulting broadcasters on the proposed changes.
The new EPG, which will only be available on new Sky+ boxes, will replace the current 4 top-level options (TV Guide, Box Office, Services and Interactive) with 10 options (TV Guide, Planner, Anytime, Box Office, Interactive, Radio, Search, Parental Control, Options and Settings). A 1/8th size mini-TV display in the top right-hand corner of the screen will show video and carry audio from channels as they are selected in the TV Guide.
The TV Guide itself will show more channels per page, up from the current 10 to 12 (with mini-TV) or 24 (if mini-TV is turned off). The search and scan banner will show more programme information including when a show started and will permit synopsis information from other shows to be displayed via the 'i' button. Other changes include a better search function covering 7 days of programme data and series links being selected by default when a programme is recorded.
The enhanced guide will be introduced "at some time during 2008" and will only be available on newer Sky+ boxes; it is not yet known whether this refers to any currently-available devices or a new generation of boxes.
Regards Satdude. :thum: