High spec AX Technology AX HD61! UHD 4K Twin Satellite S2X tuners in stock!
---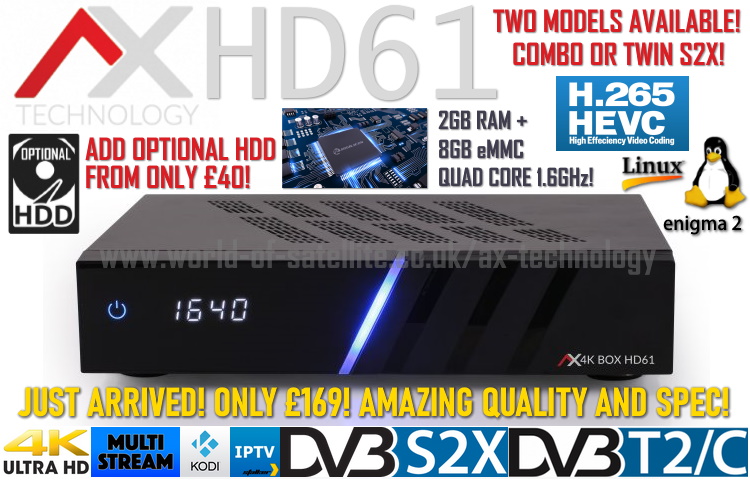 Amazing spec and quality AX Technology AX HD61!
ONLY £169!
Twin Satellite DVB-S2X
Quad core 1.6GHz CPU!
2GB RAM + 8GB eMMC flash!
Support for Kodi 18.6 & Stalker IPTV plugins!
Enimga 2 support from OpenViX, OpenATV, PurE2 & More!
Two year hardware warranty!
Easily install 2.5" SATA HDD using rear slot in cradle!
External IR eye included, easily hide inside A/V cabinet!
CLICK HERE TO ORDER YOURS!
Fast low cost shipping available to many EU countries!
__________________
Official resellers of Formuler, GiGaBlue, Octagon, Technomate, Tiviar, VU+, Xtrend and many more...
Secure online ordering - Paypal and all major cards accepted - Order online 7 days a week!
PRICE MATCH PROMISE - WE'LL TRY TO MATCH ANY UK PRICE*
*SEEN ANY PRODUCT CHEAPER? CONTACT US AND WE'LL TRY TO MATCH LIKE FOR LIKE!