New OCTAGON SF8008 4K UHD E2 (DUAL OS) LIMITED GOLD EDITION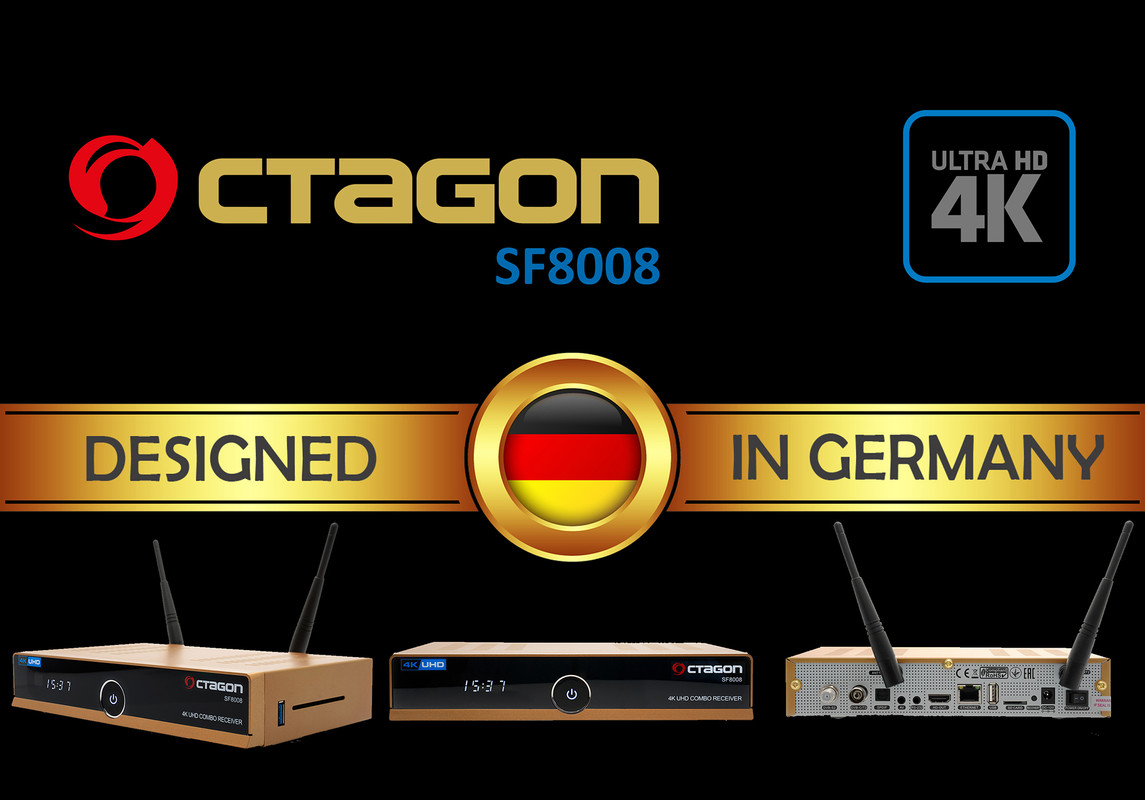 LIMITED EDITION !
The Octagon SF 8008 "GOLD LIMITED EDITION" Combo Receiver is the next product in the successful 8008 family. With this model you get a limited version that combines elegance and full power in one.
HIGH END & MULTITALENT!
You get this receiver with two permanently installed DVB-S2X Sat & DVB-C / T2 tuners. This power pack is primarily characterized by its enormous performance (15,000 DMIPS) and lightning-fast switching times.
The tuners mentioned are equipped with the latest standards DVB-S2X, DVB-C and DVB-T2 HD. In addition, the Octagon SF8008 offers a USB 3.0 port, Gigabit LAN interface and H.265 video decoding open up new perspectives for you to enjoy the full spectrum of the new 4K experience. Experience a new 4K feeling with the new Octagon SF8008 LIMITED GOLD EDITION.
ALL-IN-ONE!
Octagon SF8008 LIMITED GOLD EDITION 4K UHD supports numerous images, download of additional plugins, HDR, HLG and H.265 decoding.
Gigabit LAN with 1000Mbps ensures a very fast connection of your high-resolution content. In addition, you have two WLAN antennas with a permanently installed WIFI module.
A USB 3.0, USB 2.0 and a MicroSD slot and card reader offer enough options to play content from external storage media and thus increase the entertainment experience even more.
The Octagon SF8008 LIMITED GOLD EDITION also has HDMI 2.0, an AV (audio & video) and an S / PDIF output for digital audio signals and has a power consumption of less than 0.5 watts in standby.
Metal housing & solid workmanship
Main features:
- Hisilicon Hi3798MV200 Huawei
- Quad Core 64Bit (4x 1.6GHz) 15000 DMIPS
- Flash 8GB eMMC
- RAM 1GB DDR4
- Gigabit LAN Ethernet (1000Mbps)
- Built-in WiFi, 300Mbit, 2x WiFi antennas
- 4-digit 7-segment display
- card reader
- DVB-S2X & DVB-C / T2 combo (2x tuner)
- HDMI 2.0a & USB 3.0
- MicroSD slot
- HDMI CEC support
Properties:
- DUAL OS: Enigma2 Linux OS operating system & OCTAGON Linux OS SX
- DVB-S2X 4K UHD & Multistream (T2-MI direct input)
- Symbol rates from 100 - 80,000 SR
- PIP HD & UHD (picture in picture)
- HDR 10bit & HLG
- Multi transcoding & multiroom
- Sat> IP Client & V-tuner USB dongle
- Blind scan (blind search)
- HbbTV
- HW multiboot
- ffmpeq HW playback support
- 2160P Media Playback H.264 and H.265
- OTA updates
- PVR recordings (* optional)
- 0.5W stand-by

Front:
- Power button on / off button
- 4-digit 7-segment display
- LED display (red / blue)
- IR sensor (infrared receiver)
Back:
- H.265 4K UHD DVB-S2X tuner LNB input
- H.265 HD DVB-C / T2 tuner input
- Dolby S-PDIF
- AV - audio video socket - jack to RCA
- RS-232 socket (maintenance & service)
- WiFi 2x WiFi antennas
- HDMI 2.0a output
- USB 2.0 port
- Network Gigabit LAN (1000Mbps)
- MicroSD slot
- Recovery (reset) button
- DC-12V power supply
- Power switch on / off
Page (right):
- USB 3.0 port
- Card reader (CA CARD)
Scope of delivery:
- Receiver OCTAGON SF8008 GOLD LIMITED
- Remote control
- 2 x batteries
- Operating instructions (German & English)
- HDMI cable
- Power supply unit (power supply)

Tuner & Demodulator:
- DVB-S2X: Silabs Si2166-D60 & RDA5815m
- DVB-C / T2: Altobeam ATBM7821

Miscellaneous:
- Dimensions (LxDxH) 220mm x 125mm x 40mm
- EAN barcode 4260189996778
- Power adapter (power supply) DC12V-2A
- PU 24 pieces - RRP 129.90 euros
Available from November 17th, 2020