VU+ Ultimo 4K BACK IN STOCK from only £395! Best imaginable 4K UHD receiver!
---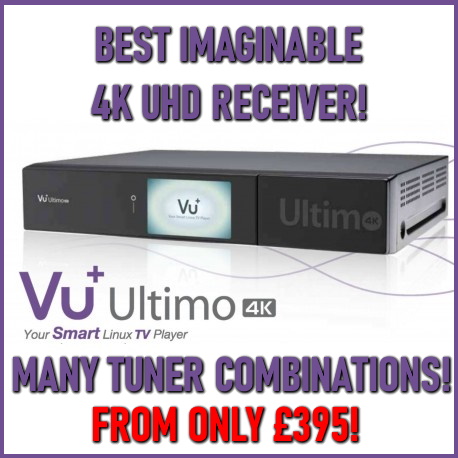 VU+ Ultimo 4K BEST IMAGINALBE 4K UHD RECEIVER!
MASSIVE SPEC WITH MANY TUNER COMBINATIONS!
BACK IN STOCK FROM ONLY £395!
BROADCOM QUAD CORE 1.5GHz CPU 20,000DMIPS!
4GB eMMC FLASH + 3GB DDR3 RAM!
4" TFT LCD FRONT SCREEN!
DUAL BAND 2.4GHz / 5.0GHz WiFi!
MASSIVE ENIGMA 2 SUPPORT!
CLICK HERE FOR FULL SPEC & TO ORDER YOURS!
__________________
Official resellers of Formuler, GiGaBlue, Octagon, Technomate, Tiviar, VU+, Xtrend and many more...
Secure online ordering - Paypal and all major cards accepted - Order online 7 days a week!
PRICE MATCH PROMISE - WE'LL TRY TO MATCH ANY UK PRICE*
*SEEN ANY PRODUCT CHEAPER? CONTACT US AND WE'LL TRY TO MATCH LIKE FOR LIKE!